Comments
26/02: Biodegradable mobile technology
Imagine getting tired of your old mobile phone and after getting a new one, just popping the old one into a flower pot and watching it grow into a sunflower plant.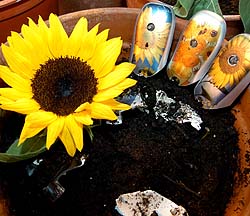 © Warwick University
I kid you not! This is true.
This unique mobile phone design has been developed by researchers from Warwick University and materials company PVAXX. It presents all kinds of interesting uses this technology can be put to use in.
It's amazing to see technology evolve to solve environmental issues facing man kind, however small the 'evolution' is.
Another such technology is a circuit board made out of lasagne.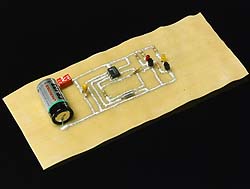 © Jennie Hills/Science Museum
I believe the key question about this lasagne based circuit boards is the life of this new material and the circuits made on it.
For reading up more on this new technology, click
here
.
Comments made
Its good technology, but I am wondering why would one want to have a mobile that is made of bio-degradable material?
I certainly wouldn't like it because it would be a strange feeling that there is actually a plant in your system unit, not a silicon based PCB .:)
26/02 22:01:11
@ Usman:

The reason is given in the article. 1000's of mobiles thrown away each hour...
27/02 01:23:53
February Review of Spider is waiting for your comment. :)
01/03 14:04:03
1000's of mobiles thrown away each hour ...
Strange ... This technology is definitely good for those, who throw their cellphones, but not for the majority of people of Pakistan !
isn't it ? :)
04/03 11:54:05
@ Areeb:

It is a good technology, even for Pakistan. Even though we might not dispose as many mobiles, there are still quite a few mobiles disposed not in compliance with the government and manufacturer rules. Of course, these mobiles also end up for sale again. There is the difference in Pakistan that few operators provide discounted mobile phones as companies in UK and other countries do.

We go for phone+sim separately while they have a complete plan/package from the service provider.
04/03 23:09:31
Faisal Qureshi wrote:
Yup, already seen this news in a program called "Only in UK"....
Everything goes back to its origin...Mother nature earth... why not cell phones?
16/03 03:10:01
Add comment