Archives
I got this via email and it is refreshing to see such positive interaction between Muslims and non-Muslims. It is certainly more appreciated than the t-e-r-r-o-r-i-s-m rhetoric which is mostly ignored now - kind of like banner ads which are ignored since people browsing the internet have become impervious to them.
The article, as I got it, is posted below.
-------
One of the phases of the Hajj is a walk across the Jamarat Bridge, from which people throw rocks at pillars said to represent the devil. The bridge is too narrow-in 1997 and 1998 people were killed when the crowd surged. In 2004, 251 pilgrims were trampled to death, and in 2006, another 362 died.

This year: 3.8 million pilgrims showed up, and everyone's okay. Why?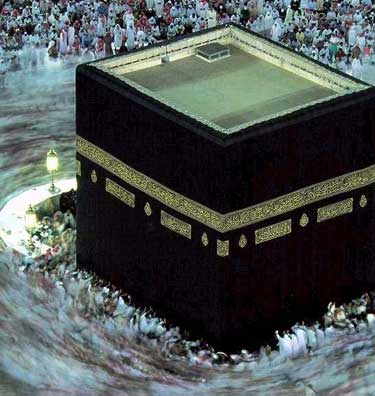 Read More!
WiredPakistan [
link
] is a forum which Pakistanis frequent for discussing various technological queries and observations. A major segment of the forum is dedicated to the various internet services in Pakistan and any problems which users are facing with any particular service. There are other areas of discussions related to technology.
In fact, WiredPakistan is the first forum where the lack of proper security practises by Wateen WiMax were exposed alongside their absurd four to five layers of NAT which they employ. Password lists for root access to their CPE were also posted which enabled users to configure settings which were hidden from them. Their one-IP-for-a-nation scheme was also lamented repeatedly. In fact, every major ISP's service [including PTCL Broadband] was exposed to the fullest.
Some time back, WiredPakistan was blocked by PTA for [still as of yet] unknown reasons. Fortunately, that block was removed and access was restored. Now, the forum has been hacked by malicious elements which are yet unknown.
So who is the hacker? As I mentioned, the hacker is as of yet, unknown. It could be an individual script kiddy unhappy at being banned - there were quite a few of those - or it could be an ISP trying to get rid of the information presented about its services and security practices - or lack thereof - on the forums. In fact, if it is the latter case, this could very well provide an opportunity for testing the new Cyber Crime laws recently implemented in Pakistan. The site access logs could be used as proof so there is a good chance that the perpetrators(s) could be caught and brought to justice. I hope the site owner gives this a serious thought since this is his prerogative.
Khalid, the owner of the site has posted an entry on his blog about this incident. You can read it
here
.
The popular video sharing site 'YouTube' has been blocked by all ISPs in Pakistan on PTA directive. It is, reportedly, the second most visited website on the internet trailing Google itself, which owns YouTube.
This leads to a dark recollection of the blanket blocking of the blogspot.com domain which rendered all blogs hosted on Blogspot inaccessible for the majority of Pakistani users who didn't knew how to utilize proxy servers and about bypassing such restrictions.
An email from Micronet Broadband Limited [MBL], a leading ISP in Islamabad follows:
Dear Valued Customer:

Pakistan Telecommunication Authority (www.pta.gov.pk) has directed all ISPs of the country to block access to www.youtube.com web site for containing blasphemous web content/movies.

The site would remain blocked till further orders from PTA. Meanwhile, Internet users can write to youtube.com to remove the objectionable web content/movies because this removal would enable the authorities to order un-blocking of this web site.

We're sorry for any inconvenience.

Best Regards

Manager
Technical Assistance Center
Micronet Broadband Pvt. Ltd.
Islamabad
I don't understand why exactly we should write to YouTube for removing the objectionable content. Why doesn't PTA blocks specific videos, if it want to censor the stuff, which itself is reprehensible. Why don't they, instead, raise an awareness campaign and let the people decide to not see those videos? Are they so incompetent that they don't know how to do it?
And most of all,
why don't the complainants just grow a thicker skin?!?
I just now ended a call with MBL while writing up this post confirming the details above. It is indeed a sad state of affairs. I urge everyone to contact PTA and pressurize them by expressing your thoughts and feeling via the PTA website (
www.pta.gov.pk
) and through the media.
For complaining to PTA, there are multiple options:
1 - Call them on their 24/7 toll free number 0800-55055, or,
2 - Send a web form based complaints from this page, or,
3 - Contact the people listed below (via snail mail, telephone or email) depending on your locality, to voice/register your complain:
a. Officer Incharge PTA Complaint Cell.
Pakistan Telecommunication Authority,
Sector F-5/1, Islamabad.
Phone No. 92-51-9225325, 9225318
Fax No. 92-51-2878127.
E-mail. complaint@pta.gov.pk

b. Director (Enforcement), Lahore.
PTA Zonal Office, 165-Abid Majid Road Adjacent Telephone Exchange, Lahore Cantt.
Tel: 92-42-6665022 Fax: 92-42-6654009
Email: ptalahore@pta.gov.pk

c. Deputy Director (Enforcement), Rawalpindi.
PTA Zonal Office, 222/5, Khadim Hussain Road, Rawalpindi Cantt.
Tel: 92-51-5585380, 5121362 (Exch) Fax: 92-51-5585761
Email: rawalpindi@pta.gov.pk

d. Director (Enforcement), Quetta.
PTA Zonal Office, 213-B, Jinnah Town, Quetta
Tel: 92-81-2829476 Fax: 92-81-2829477
Email: quetta@pta.gov.pk

e. Deputy Director (Enforcement), Peshawar.
PTA Zonal Office, Plot No. 11, Sector A-3, Phase-V, Hayatabad, Peshawar
Tel: 92-91-9217279, 5829178 Fax: 92-91-9217254
Email: peshawar@pta.gov.pk

f. Director (Enforcement), Karachi.
PTA Zonal Office, Wireless Compound, Opposite JPMC, Rafiqui Shaheed Road, Karachi. 75530
Tel: 92-21-5680101 Fax: 92-21-5680640
Email: karachi@pta.gov.pk

g. Deputy Director (Enforcement), Muzaffarabad.
PTA Regional Office, D-72, Upper Chattar Housing Scheme, Muzaffarabad.
Tel: 058810-33255 Fax: 058810-33256
Email: muzaffarabad@pta.gov.pk
Apart from this, spread the word where ever you have an online presence via email, blogs, forums, etc so that the maximum number of Pakistanis get to know about this.
Wired Pakistan
, a Pakistani Tech Forum is currently hosting a discussion on this topic in
this thread
.
I urge you, the reader, to not let a regulatory body [PTA] which is supposed to protect consumer interest, but has regularly failed to do so, force its will on 160 million population of Pakistan!