Archives
I was randomly browsing through blogs when I found
this
site. It states my blog's worth at
$7903.56
. Neat, ain't it? If only real cash was involved... ;)
Apparently,
the site
calculates how much a blog is worth using data from
Technorati
. The inspiration comes from
Tristan Louis's research
into the value of each link to Weblog, Inc. Here's a nice image to go along with it: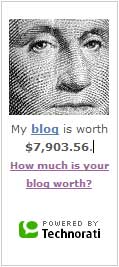 If you have a blog, how much is it worth? Would you sell it for the amount calculated? Do share your results and thoughts!
Were you misled by the "Spice Man" title? Well, don't be. This post has nothing to do with Spice Girls or any gossip surrounding them.
I was just browsing
The News
of October 25 and noticed a news item which piqued my interest. Click
here
to read the news article and
here
to download it in case it vanishes from the site.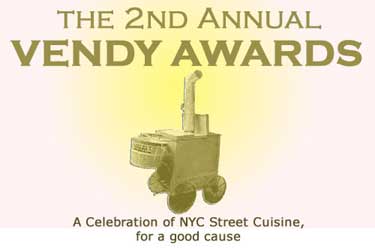 Click the image above for more info on Vendy Awards.
I must congratulate Mr. Samiul Haque Noor who took the top prize at the
2nd annual Vendy Awards
with his chicken, lamb and beef concoctions using Pakistani recipes and spices. He has made his country and its citizens proud.
Fans of Mr. Noor state that
the red sauce
clears up sinuses. This would definitely save his customers a visit to the doctor (think bills!) while getting something good and filling to eat at the same time. As far as I am concerned, that is a bonus!
I wish him great success in his life!