Weblog
A couple weeks back, there was an email circulating amongst faculty and students of NUST School of Electrical Engineering and Computer Sciences about Randy Pausch's inspirational last lecture/address at Carnegie Mellon University regarding how to achieve one's childhood dreams. He died on July 25, 2008 at the age of 47.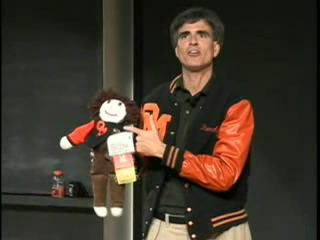 Randy Pausch in his last lecture at Carnegie Mellon university
Mr. Pausch knew that he was going to die in a couple months due to pancreatic cancer. He delivered the lecture on 18th of September, 2007 but it spread around the world like wildfire. I saw the video of the lecture through
YouTube
. While delivering the lecture, he was calm and humorous. The address was heartfelt and inspirational. I encourage students from any and all disciplines to watch the video.
Read More!
Remediation
By Huma Yusuf
The oft-quoted phrase about roses by any other name smelling as sweet sometimes bears recollection. Indeed, synonyms, euphemisms, and metaphors can make reality a tad more palatable, but language cannot alter the facts. And so it was with international media coverage of the events that unfolded in Karachi over the weekend. Actions that were initially being described as rallies, demonstrations, calls for democracy, activism, protests, and initiatives for democratic participation were soon identified more accurately as clashes, showdowns, and, simply, violence. When stripped of its rhetorical and politicised garb, the mayhem that left 41 people dead, paralysed the city for three days, damaged urban infrastructure, and compromised press freedom, can only be referred to as unfettered, senseless violence. In this context, I would argue that there's a value to depicting things exactly as they are. After all, speaking in tongues never helped anyone fumble towards moral clarity or sound judgement.
Student activists at Harvard University in Cambridge, Massachusetts, recently exemplified the idea that describing something for what it was could lead to increased fairness and ethical decision-making. The Alliance for Justice in the Middle East (AJME), a student group, is campaigning against Harvard's policy of admitting and hiring people who boast public, well-documented records of war crimes and human rights abuses. The students are calling for the university to screen for human rights violations as part of its admissions and hiring procedures. As of now, AJME's website identifies seven "abusers" who are -- or soon will be -- in a position to describe themselves as "Harvard-trained".
Read More!
This originally appeared on the
Digital Vision Program
site. The program is from Stanford university and Reuters Foundation. I consider this to be yet another achievement by Pakistani universities who are making their name in various fields of development and research. We need more concentrated effort to promote such things at the academic level. In today's world, competition is not just within the university, city or country. Today, competition is worldwide and extremely tough. So buck up and get ready for the ride than being left behind.
---
NUST Institute of IT (NIIT) along with Stanford University is currently collaborating on Reuters Digital Vision Program (DVP).
One of the major underway DVP projects is Jaroka: Tele-healthcare proposed by Atif Mumtaz (06, 07). Jaroka is a web-based tele-health care portal that enables clinicians operating in disaster affected communities to get rapid diagnosis, expert advice, and opinions from specialists around the world. NIIT has established a dedicated team comprising of its faculty members and young students to play its role in this project. This project is succeeding under the supervision of Dr. Arshad Ali (Director General NIIT).
Dedicated faculty members (Dr.Amir Shafi, Mr.Adnan Iqbal , Ms.Shamila Keyani) and students are now working towards telemedicine initiative within the college. In order to foster the progress, regular seminar series on the relevant topics are arranged every Wednesday and the progress of students is monitored on a regular basis. Also, NIIT has been able to successfully persuade Army Medical College (AMC) to setup their first medical collaboration with NIIT and Stanford.
NUST Institute of Information Technology has always been committed to providing a stimulating educational experience within the framework of vibrant research environment and to supporting high-quality research and research training that is relevant to national needs and is of social, commercial and cultural value to the community. NIIT- Stanford collaboration will play a significant role in development of cutting edge technology in the field of Tele-health care.