Archives
Here's your chance to have a try at Winzip 11. I don't know why they keep releasing new versions. I still haven't moved on from Winzip 9 which is more than enough for my needs.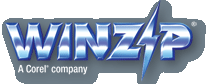 Anyway, for those interested, the list of new features in Winzip 11 can be found
here
. For downloading Winzip 11,
click here
.
Remember that this is a beta release and beta release risks are still there with this software. You can read more about this and the beta license on the download page linked above.
I hope you enjoy it. Share your comments, likes and dislikes about it here. Will you buy it when it is properly released or keep using an older version (or another compression software)? I think I will keep using version 9 for some more time.
While surfing the web, I often came across images which showed email addresses. Following are some samples:



This is supposedly a way to counter web bots which crawl the web for email addresses from popular email providers for spamming purposes.
This is a neat little trick and I often wondered on how to make such an email address image. Now I have found the source of these images. Some of you may already be familiar with the linked page. For those of you who want to use such images and didn't knew where to find them, you can go to this linked
page
to make yourself such images. There are quite a few email provider choices for you to choose from.
Enjoy your email address images and do share your experience regarding this anti-spamming technique!