Archives
I just finished reading an online news report about a survey conducted by International Herald Leader, which is published by China's Xinhua News Agency. I have read their news web site occasionally in the past for updates about JF17 related news.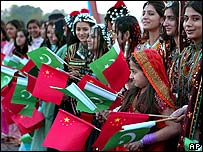 Image (c) BBC
The contents of the article are:
Chinese people like South Korea the least of all of their neighbors, according to the results of a survey released Monday. It is unusual for South Korea to rank ahead of Japan as China's most unpopular neighbor.

In the survey of 12,000 Chinese people over the past four months by the International Herald Leader, a newspaper published by China's official Xinhua News Agency, 40.1 percent of respondents said they dislike South Korea the most. Japan came in second place with 30.2 percent of the vote. The most-liked neighbor was Pakistan with 13.2 percent followed by Russia and Japan, the newspaper said.

In September, market researcher Millward Brown surveyed 1,000 Korean adults on their favorite neighboring country. The majority -- 60.8 percent -- said the U.S. China ranked second with 44.0 percent followed by Russia with 41.4 percent and Japan with 35.6 percent.

~Source
It goes without saying that amongst our own neighbours, China is the most favoured one since we share common ties of friendship which have lasted more than half a century and which nothing has been able to shake despite efforts by some parties to the contrary. We share a vision of stability in this politically troubled region. China's help to the Pakistani people in our times of need is deeply appreciated. We have cooperated with each other on issues ranging from international diplomacy to weapons manufacturing to nuclear reactors currently installed in nuclear power plants in Pakistan.
If we look at the pages of history, Pakistan was the first Muslim country to recognize China in 1950. Diplomatic relations were established the very next year. Since then, the Pakistani and Chinese people have supported each other through times of war and peace. Our help to each other comes without any strings attached to it which constitutes genuine respect for the sovereignty of the other. This aspect of our relationship has always been appreciated.
I end this post with a simple slogan which on the face of it might look plain and simple but holds deep meaning for people on both sides of the border:

Long live Pakistan-China friendship!