Archives
Carla Allen
Pakistan isnít the most obvious choice for a school trip, but thatís exactly where four students and their teacher from Moulsham High School have been, to experience a trip of a lifetime.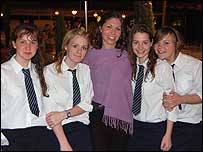 Four Year 10 students, Carmel Johnson, Hannah Utting, Becky Boyd and Lucy Davis and their Geography teacher Miss Allen got the opportunity to travel to Pakistan after Moulsham High became one of five schools to win a national competition to produce a 15 minute presentation about the country.

The girls won the first prize of a ten day VIP trip to Pakistan starting in Islamabad before going on to Peshawar and then Lahore. Organised by Harlow based IT company Ahkter Computers, the purpose of the trip was to give students an insight into a country which often receives a negative press and allow them to form their own opinions.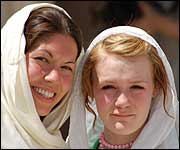 Miss Allen and Carmel outside a Mosque.
---
You can
read the rest of the article on the BBC UK site
.
This shows that when one is allowed to form informed opinions instead of one sided biased opinions, the viewpoint is much more balanced and beneficial for all involved.
Read More!
Sydney Morning Herald
by Eleanor Limprecht
At the border between hostile neighbours India and Pakistan, the guards put on a fine show. Eleanor Limprecht reports.

From communalist violence to border disputes and threats of nuclear war, India and Pakistan have had a tumultuous history since their partition in 1947.

Though the bitter rivals have made recent inroads towards peace, their animosity can still be witnessed at the Wagah border at sunset every evening, when soldiers from each side march and shake their guns in a menacing - but bordering on ridiculous - spectacle that draws hundreds of spectators.

Both countries have built stadium seating for the crowds and taxi drivers make a lucrative business shuttling tourists from Amritsar, a border town in the Indian state of Punjab. Families bring picnics and cheer on the soldiers as they stomp their feet, puff out their chests and lower their national flags in a clearly contemptuous spectacle.

But rarely do these tourists actually cross the border, so it is with some trepidation that my friend and I walk through the six sets of gates and four passport checks to spend a few days in Lahore.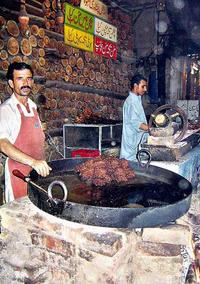 Taste of Lahore ... the exotic fare in Food Street.
Photo: Eleanor Limprecht


A week earlier we had lined up for visas at the Pakistani embassy in New Delhi and booked our train tickets to Amritsar.

Tell people in India that you are crossing the border into Pakistan and they shake their heads in horror. "Oh, no," said the dignified-looking Sikh on the train. "Why would you want to do that? India is very beautiful - much more safe. None of these terrorist sleeper cells, no Osama bin Laden."

The Indian border guards are not very encouraging, either. "I hope you come back soon," one says. "You will find it is not as nice as India." His friend adds: "They eat too much meat - it makes them violent."
Read More!