Comments
07/07: Microsoft Surfaces Again
Most of my posts are always written in a way that may give the impression that I am a science reporter, and that this post of mine (after several months of absence) is just another similar one. However, this post is about a new product from Microsoft named
Microsoft Surface
.
I myself came to know about this product just a month ago. At the time I did wonder whether it was just another of Microsoft's several other "innovative" technologies aimed at doing simple things in difficult ways.

And it isn't. It is quite atypical of Microsoft to offer anything outside their bundled and packaged software philosophy. And though this one can't be downloaded over the internet, it's worth writing about.
Microsoft surface is a new product from Microsoft which in Wikipedia's words is "
developed as a software and hardware combination technology that allows a user, or multiple users, to manipulate digital content by the use of natural motions, hand gestures, or physical objects
". The product is really quite recent and was announced on May 30, 2007 at D5. Commercial partners of Microsoft will release it in November 2007, though you and I are not the intended customers. Having a starting price of about US$5,000 to US$10,000; it is initially aimed at hospitality businesses such as hotels, restaurants, entertainment parks, etc.
Now a slight description of the technology, Microsoft Surface is a Windows Vista based PC housed in a black table base with a 30" acrylic top touch screen.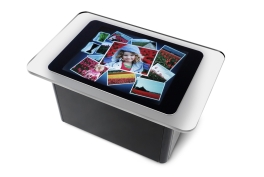 Users can interact with the machine by either touching or dragging fingers or objects such as paint brushes across the screen. The interaction is made possible by use of five cameras that are mounted beneath the screen which are sensitive to nearby objects. It also responds to bar-coded objects. The overall specifications are:
Product Name:
Microsoft Surface
Dimensions:
30-inch (76 cm) display in a table-like form factor, 22 inches (56 cm) high, 21 inches (53 cm) deep, and 42 inches (107 cm) wide
Operating System:
Windows Vista
Connectivity:
Wired Ethernet 10/100, Wireless 802.11 b/g, and Bluetooth 2.0
The technology itself is not new. It is 25 years old and I have been hearing various things about it and the people who are developing it.
Jeff Hahn
is one name that immediately comes to mind. He is a researcher at New York University's Courant Institute of Mathematical Sciences and one of the foremost researchers in
surface computing
. Han also presented his work at the
TED conference
in Monterey, California last year. He demonstrated a lab prototype, which wasn't something ready to sell. What really surprises me is that all this was something that I was expectant would be commercialized in some 5-10 years from now, and I am not unjustified in thinking this. Look at the price tag; not your average gadget, is it? But Microsoft has commercialized it and that is what made me write about it. It also shows that Google's expanding empire is giving Microsoft nightmares and it wants to be seen doing something.
Overall I would say this is
the new thing
from Microsoft. Innovation is not something I expect from Microsoft. And Jeff isn't resting either. He has founded a company called
Perceptive Pixel
to commercialize just this!
Comments made
Nice article.Would have liked more details. ;)
07/07 01:33:33
@ Asad
Thanks. And as far as the details are concerned, that's a problem I always face, where to draw the line between too much and too little detail. I hope to cover even more interesting things in a couple of days.
07/07 01:38:01
Zubair wrote:
Is this the same thing Bill Gates used in the Windows Vista Keynote speech. I guess so.
09/07 07:27:26
@ Zubair
I am not sure at the moment, it's plausible that Bill was indeed using this in his keynote address. However, according the information I have this was first unveiled in a technology conference in California on 30th May this year by M$ CEO, Steve Ballmer. Bill's keynote address is from a time earlier than that and I wonder why would Bill would spoil the surprise, given M$'s secretive nature.
I would say that it could be something else as M$ is not the only guy in town, as I mentioned above Perceptive Pixel is also doing something similar and perhaps superior than M$.
10/07 17:43:25
Add comment