Comments
15/07: Day 1: Arrival at the University of Leeds
This post is a continuation of my previous post(s) regarding my trip to UK. Previous post(s) regarding this trip are:
Tea with the Queen
This is some of the stuff I wrote for the blog. Yes,
wrote
, not typed. Well, it is typed now. Anyway, without further delay...
I am sitting in my room at Lyddon Hall at the University of Leeds after a full day of travel.
Our flight from Islamabad to Manchester had a stopover at Dubai. Emirates is a stickler for stopping at Dubai on long routes which is rather frustrating. All in the name of their duty free shops.
We left Islamabad Sunday morning, delayed by a security issue involving a man boarding the wrong flight. The aircraft was a Boeing 777-200. It's length was on the small side, sort of like an Airbus. The delay mentioned above in our connecting flight cost us our next flight to Manchester. The next Emirates flight headed to Manchester from Dubai was at 1430 (Dubai time) so we had about 6 hours to spare.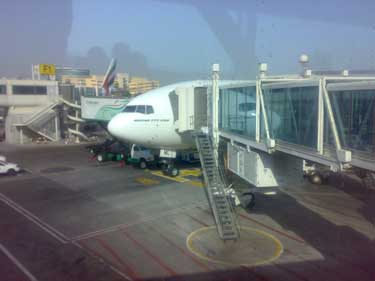 I spent the six hours walking around the airport and Dubai's famous duty free shops. The general construction and facilities at the airport were awe-inspiring to me, since I am used to Islamabad's old single runway airport. I wish the city administration can speed up the work on the new airport for Islamabad and get it completed as soon as possible. I also had a complimentary meal from the Safar restaurant at the airport since our delay between flights was over four hours.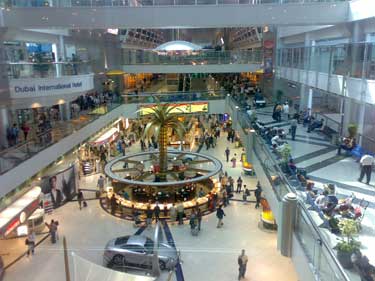 The first thing I noticed about the duty free shops at Dubai airport was that they are a woman's paradise. There is a huge variety of electronics, sweets (chocolates), cosmetics, books and tons of other things. Since I knew that I would be returning via Dubai two weeks later, I did not buy anything. Instead, I looked around at stuff to see what I could possibly get when going back.
We left for Manchester on a Boeing 777-300ER, thankfully at the scheduled time.The flight was fine though tiring. While the aircraft was landing at the airport, I saw a Concorde parked on the left side of the runway. It was exciting to see the now retired aircraft. We took our baggage and got out of the arrival terminal. four of my fellow students lost their baggage and after settling the tedious claim procedures, we got on a hired van and left for Leeds.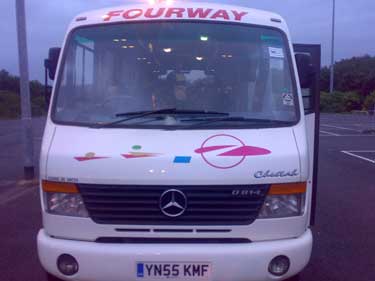 It was pretty dark by the time we reached Leeds. Dr. Desmond C. McLernon, a senior lecturer at the University of Leeds, welcomed us and guided us to Lydon Hall. The buildings were made of red bricks, which seems to be a traditional English touch, and were a mix of old and new architecture.
We were given individual rooms and had shared toilets, bathrooms and laundry. Dr. McLernon ordered a couple of pizzas and coke for us and after somewhat settling in, we ate our dinner and went to sleep. I was hungry enough that the simple margherita pizza seemed delicious.
I didn't even had time for prayers since we were supposed to wake up at 0700 the next day.
Next:
Days 2, 3 & 4 - University of Leeds
Comments made
We just launched a mega event with the name "I Still Love Pakistan Do You !" at BuzzVines.com, and would love if you join up and spread the word around. we are inviting all the bloggers of Pakistan so hurry join up!

PS: this is not spam i visited your website personally to leave the message.
10/08 16:35:51
Abdul Sami wrote:
which course you are enrolled in?
12/08 21:24:21
I'm inclined to agree with you.
17/11 22:00:15
The university of Leeds is an absolutely brilliant place. I knew when I came to the open day that it was the place for me and I would definitely recommend sixth formers to go with their gut instincts.
27/07 18:38:56
Add comment