Comments
25/05: This side of Pakistan
Disclaimer: The credit for this article lies with Tals Diaz and the Philippine Daily Inquirer. I am posting this here for informational purpose only.
Source
By Tals Diaz
Philippine Daily Inquirer
"When the doors of perception are cleansed, man will see things as they truly are, infinite."
–William Blake
"We are going to sky, who wants to come with us? We have gone to heaven, we have been the friends of the angels, And now we will go back there, for there is our country."
–Rumi, Sufi poet
MANILA, Philippines—From afar, they looked like vultures circling over prey. As we moved closer though, we saw them for what they really were—majestic eagles, hundreds of them, circling languidly over the terracotta-stained houses lining the streets of Karachi.
Truly, there are things that need to be seen up close to gain a much better perspective.
Mention the name Pakistan and immediately you evoke feelings of fear and awe. For you could say that the country has had its lion's share of bad publicity. Largely due to a West-centric media, its PR portfolio reads like an eternal caveat: a nuclear-powered, hardline Islamic nation under tightfisted rule—certainly not the winning combination to inspire an entry in the "Must See Places on Earth" traveler's list. Add 9/11 to that wicked equation, when Pakistan had become a victim of its own geography since the US focused its ensuing War on Terror on neighboring Afghanistan, and you'll most likely dismiss the country as a dangerous land.
The only thing more dangerous, I believe, is perception that is bloated as truth.
So what is the story behind the headlines?
What you won't likely see on the news is the side of Pakistan that is far, far more worthy of being written about. It is a side that is more gentle than hostile, blessed with a rich cultural heritage and civilization that stretches back for thousands of years, and some of the warmest, most dignified people you could ever encounter in a lifetime of traveling. Behind the headlines, there are stories upon stories of fabled landscapes where ancient civilizations rose and fell, where the Hindu, Buddhist, Sikh and Sufi beliefs flourished for centuries, and where a great empire built architectural wonders that still stand to this day. Many of these stories shall remain mysteries to be unraveled by those few who dare to roam.
A journey to Pakistan is panacea for the "been there, done that" kind of jaded traveler, as the country remains unsullied by the mass tourism that's pervading many Asian destinations today, like Bali, Thailand or Cambodia. There are hardly any pesky vendors shoving souvenir trinkets in your face, or stalls upon stalls selling T-shirts that say "All I got was this lousy shirt," or taxi drivers fleecing naïve tourists for a quick buck. Traveling as itself recovers a sense of purity, as you're left to discover the place without expectations born of a hundred others' pre-marked itineraries.
A mighty art
One of the most fascinating aspects of Pakistan's culture is a vibrant art that has fused itself with everyday life. Karachi, for one, is a moving canvas. Their masterpieces come in the form of eye-catching, ornately painted buses and trucks. I was craning my head to see these mobile art works that give new meaning to the phrase "pimp my ride." Imagine cement trucks painted all over with eagles and roses—very cool. (And yes, they are much more souped up versions than our own jeepneys).
Over at the beach by the Arabian Sea, we saw camels languidly strolling about, bedecked in a pastiche of colors. Several vendors wearing traditional shalwar camiz peddled everything from freshly baked Naan, tea, kebabs, and jasmine flower bracelets. Women in their kaleidoscopic headdresses sat serenely on benches, watching the thunderous waves crashing on the shore. I later found out that swimming on the beach is not a custom in conservative Pakistani culture, and yet throngs of men and women gathered on the beach, in what's perhaps one of the world's oldest weekend pastimes, admiring the great blue beyond.
Cult of personality
My favorite city in Pakistan, henna-stained hands down, is Lahore, the capital of the Punjab province near the Indo border. Historically, Lahore was the cultural hub of the Mughal Empire, and its architectural vestiges are scattered throughout the city, sharing the limelight with Gothic Victorian and contemporary buildings to create a mood that shifts from modern to mysterious. So you could be imagining yourself in a scene from the "Ramayana" one minute, and then discussing global politics over milk tea in a quaint little restaurant the next.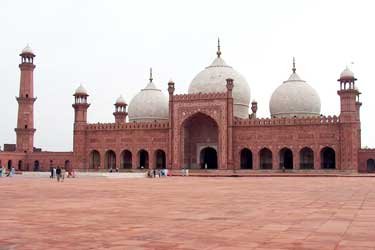 Badshahi Mosque
Rising sublimely like a crown jewel amidst a sapphire sky in this mélange of a city is Badshahi Mosque, considered one of the world's great architectural wonders. The mosque is also home to a Koran with 1,226 pages of spun gold.
Islam remains as a great influence of Pakistani life, and here I see just how much this religion inspires such creativity and peace. "90 percent Muslims believe that religion is a unifying force," said Lt. Gen. Khalid Maqbool, governor of Punjab province in an interview, "It is a religion based on compassion, equality and tolerance."
As I walked around the mosque awestruck by the ornately designed ceilings, two young boys came up to me and bashfully asked, "Why are you here?" I was a bit dumbstruck and could only lamely blurt out, "because it's beautiful." They seemed bewildered at this, and consequently asked me if I was Muslim. I said no, but before provoking further confusion, I said, "I'm supposed to take many photos to show them back in my country." They seemed satisfied with this, and gamely posed for a photo before they scampered away.
Another must-see in the city is the famed Lahore Museum, which is in fact considered to be the best in the subcontinent. There are artifacts here that date back to the Stone Age, a testament of a land that was once home to some of the world's oldest civilizations. Many of the art works on display are simply mind blowing, from carved ivory tusks depicting the life of Buddha, to miniature Sikh paintings, to Tibetan antique silver jewelry. A very rare sight on display is the "Fasting Buddha," a far cry from the hefty reincarnations of the Far East, as this peculiar statue shows a much bonier, sunken-cheeked version of the Enlightened One. I was about to make a snarky side comment, but I suspected it already had enough of a ribbing.
Borderline
Every sunset, a boisterous spectacle happens at Wagha, about 40 minutes away from Lahore's city center and at the border between Pakistan and India. Hundreds of men and women frenetically shout and cheer for their country as cheerleaders in their national colors wave flags around.
No, it's not a football or cricket match, it's the daily flag-lowering ceremony, a tradition that began in the late 1940s after the British had drawn a line separating the two countries. The guards on both sides carry out a show that's part-Broadway, part-Monty Python as they try to outmarch, out-salute, and outperform each other. It's the fiercest display of patriotism yet, and I admit I actually got teary-eyed at the whole experience.
So why the misperception?
With such a beautiful and culture-soaked encounter at every turn, the question remains—why the gross misperception? A single action that occured at the far flung, troubled regions (that are even difficult to penetrate) is picked up on TV, and the power of media is able to inflate it and convince many that the whole country is in conflict. (It's something that even we Pinoys can relate to!)
I asked a few key officials and Pakistani journalists about their thoughts on their warped global image.
"It is very unfortunate that it is viewed this way. Perception is very misplaced," said a source at the Karachi Press Club. "Pakistanis are very tolerant people, a few misguided people will think we are a nation of extremists."
"When you go around New York selling a story about the positive side of Pakistan, no one will be interested. But with a bad story, everyone grabs it," adds Major General Abbas of the Inter Services Public Relations Directorate (ISPR, the PR arm of the Pakistan Army). "From a distance, with an agenda, you misinterpret and twist, and give a spin of your liking. But most of the people who come here—and I refer to responsible officers, when they visit us, interact, get into a dialogue and discussion, they completely understand. They go back to their governments and ask for increase of aid, and more dialogue."
Brigadier Muhammed Tariq Jilani of the ISPR likewise believes "It is the responsibility of those who come here and see things and when they go back, make an effort to correct the situation… to try to develop a better sense and understanding."
For Lieutenant General Maqbool, more effort should be made in promoting the country in a positive light. "Last few years, we've been hurt by the image of terrorism, people are discouraged to come. Frankly speaking, we need to do a better job improving our media image, even to produce more movies."
Through another's eyes
I did not think it a coincidence that I caught the Pangea Day film fest, a celebration which sought world peace through the power of film, on Pakistani cable. One line stood out for me: "See the world through another's eyes." Perhaps the only way to gain a better cross-cultural understanding is to first challenge our fears wrought by perception.
The experience of finding beauty in the least expected of places not only transforms you, but makes you such a part of it that you bring the memory everywhere you go.
The strains of qawwali, or Islamic devotional singing, echo in the distance. In the fleeting moment, peace infuses the land.
Comments made
I have been recommending a book called "My Stroke of Insight - a Brain Scientist's Personal Journey" by Jill Bolte Taylor and also a TEDTalk Dr. Taylor gave on the TED dot com site. And you don't have to take my word for it - Dr. Taylor was named Time Magazine 100 Most Influential People, the New York Times wrote about her and her book is a NYTimes Bestseller), and Oprah did not 4 interviews with her.
18/06 16:08:03
I am extremely impressed together with your writing abilities and also with the structure to your blog. Is this a paid topic or did you modify it yourself? Anyway keep up the nice quality writing, it's uncommon to peer a great weblog like this one nowadays..
22/04 10:09:14
Add comment