Comments
22/10: Boycott Minnie Minors
Most of you having young children or siblings (below 10 years of age) would know about the shop
Minnie Minors
(a subsidiary of
Bareeze
) which deals in ready made garments for babies and young children. In Islamabad, this shop is located on the floor above
Bareeze
(near Chen One) in Jinnah Super.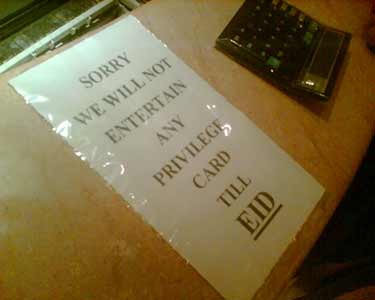 Recently, when I got the opportunity to visit this shop, I saw a sign taped onto the payment counter and the wall nearby which stated that 'privilige cards will not be accepted'. Privilige cards here are credit card type customer loyalty program cards which can be used by frequent customers for getting discounts and acquiring points on their purchases. These cards have been in use by Bareeze and Minnie Minors for some time.
Eid is just around the corner and there is always a high influx of shoppers in the last
ashra
(part) of Ramadan buying stuff for celebrating Eid. This obviously includes shopping for clothes by people of all ages.
On seeing the notice in Minnie Minors, I questioned the person present on the counter about it. He said "Orders have come from Head Office that privilige cards are not be accepted for purchases before Eid". I was surprised and disgusted at how eager such shops are at ripping off ignorant Pakistani consumers. The reason he presented for this ripping off was that during the time before Eid, there are a large number of consumers who have to wait for long times during checkout while privilige cards are processed alongside the purchase.
I suggested that they should get another computer system and divide the Eid rush load into half while still utilizing the privilige cards. My reasoning for this is that they are a popular destination for clothes shopping and must be earning quite high profits in the order of millions of rupees. Investing just Rs.30000 (cost of a good computer system) into the business would yield good results in the form of better checkout time management and consumer satisfaction. The person just laughed and hummed and hawed while trying to avoid giving an answer. This angered me and I suggested that perhaps it would be best if people stopped shopping at their shop to which he still didn't gave a reply and kept inputting purchase info for other customers on the computer system.
The only reason why the person didn't do anything and continued ripping of the clientele is that we don't have any real consumer protection organizations which could ban a product or vendor if he/she did anything against the rights of the consumer. On an individual level, we can protest on a limited level (resulting in being mostly ignored). Disemination of such information through the internet is on a rather small scale when considering the lack of Pakistani people doing something constructive on the internet (and I don't consider Orkut, MySpace and useless chatting on MSN or Y!Messenger constructive uses of internet).
I urge those who read this and who purchase clothes from Minnie Minors to avoid dealing with them and to seek alternative sources. The only way to make them realize their mistake is to not buy anything from them until they reverse this policy permanently and take constructive steps to ensure consumer protection.
Comments made
Add comment