Comments
20/09: Eid Mubarak!
Ramadan is about to end (has already ended for some) and I would like to take this opportunity to wish everyone a very happy Eid. May Allah bless us all with his bounties and make us better Muslims. Amen.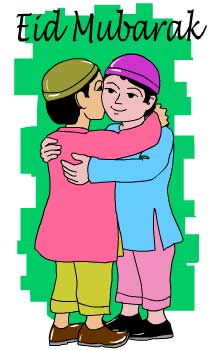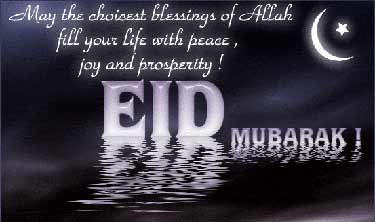 Spread as much love, peace, joy and prosperity as you can on this day of celebration.
For reading more Eid posts, click
here
.
Images taken randomly from Google image search.
Comments made
Eid mubarak...
24/10 12:31:13
Eid Mubarek :)
24/10 14:16:12
Eid Mubarik to you too!
24/10 14:49:18
Man, my little nice just hugged me for Eid. I love it. :D

oh, yeah... Eid Mubarak to everyone else too.
24/10 16:11:54
Eid Mubarak janab, nice blog !!
24/10 23:15:26
ultrasonik wrote:
Eid Mubarak to you all and every up coming visitor... :)
Regards, Ultrasonik
25/10 00:31:40
Khair Mubarik to all you people!
27/10 16:16:49
I forgot to comment, by the way
EID MUBARAK TO YOU ALL.
18/10 13:55:29
You are such apleasure in my life I hope that you can see How meaningful your friendship is You mean the world to Me
16/12 20:24:15
ASSALAMU ALAIKKUM
18/12 15:36:04
Hamid wrote:
Eid Mubarak to all muslim people wish you all the bestt
20/12 07:24:14
salam obaid iam zabi tum moj se doste nihe karsakte
of mere sat takraban 5 maste wahe ta masra onlin noshe
mata phone woka
20/12 11:15:29
have an awesome eid man
to your cool friends
and super sweet family
23/09 00:04:53
Eid Mubarak to all Muslim Ummah. May Allah shower his blessings upon you.

Ameen
Suma Ameen
01/10 14:49:45
hai razwina akka
13/12 12:58:48
Eid Mobarak to all Afghan and all the Muislam world
17/09 15:14:13
eid mubarak to you all
well surprisingly
this eid mubarak post has the most number of replies for blogs listed on the blogger (aggregater)
22/09 00:31:46
Add comment